Artist:

Artist Books & Portfolios | Prints | Political Posters | Painting | Exhibitions

---
Exhibitions
With links to more about the shows

---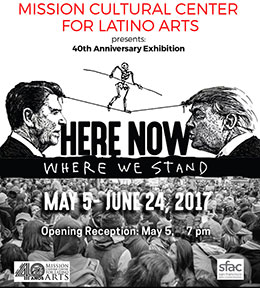 Here Now: Where We Stand
40th Anniversary of The Mission Cultural Center for Latino Arts (MCCLA), 2017
Here Now: Where We Stand celebrates the 40th Anniversary of The Mission Cultural Center for Latino Arts (MCCLA), founded in San Francisco in 1977 as a result of social struggles for greater equality in the 1960s and 1970s. The exhibition honors this history and MCCLA's role in providing previously marginalized artists with an alternative space to present their work.

curated by: Anthony Torres
---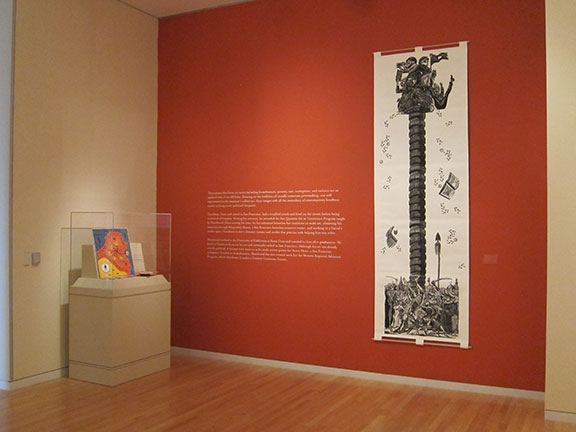 Art Hazelwood and Ronnie Goodman: Speaking to the Issues
Georgia Museum of Art June 13 - September 13, 2015
Two California Bay Area artists, Art Hazelwood and Ronnie Goodman, confront and tackle such present-day realities as homelessness, poverty, war, corruption and violence in their art. Consonant with the exhibition of works from Mexico's Taller de Gráfica Popular and squarely in its tradition of sociopolitical commentary—and, perhaps most important, populist in theme and medium—the linocuts, woodcuts, etchings and books in this exhibition show two skilled artists fearless in goading viewers from complacency or from indifference to injustice. They are artists not to be detoured from speaking to the issues.

Curator
William U. Eiland, director
---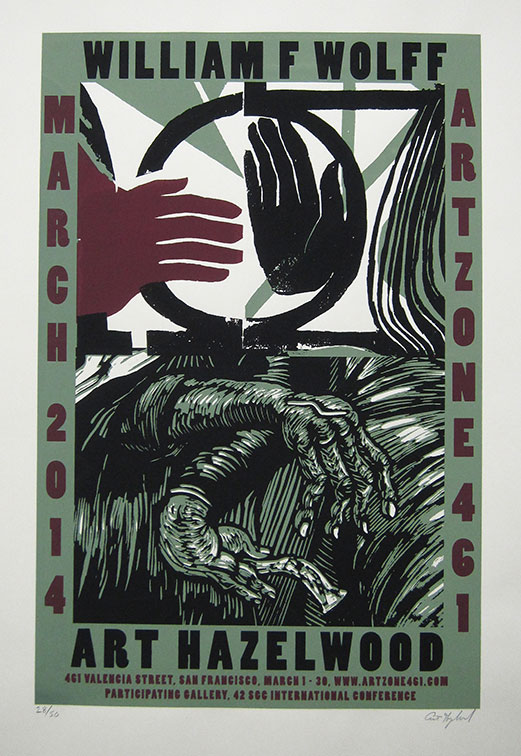 Color and Black & White Woodblock Prints
March 1 - April 6, 2014

ArtZone 461 Gallery presents woodblock prints by William Wolff (1922-2004) and Art Hazelwood. While the Gallery represents the Wolff estate, this is Hazelwood's first two-person exhibit. Hazelwood frequently contributed to previous group shows.
Curator Steven Lopez
---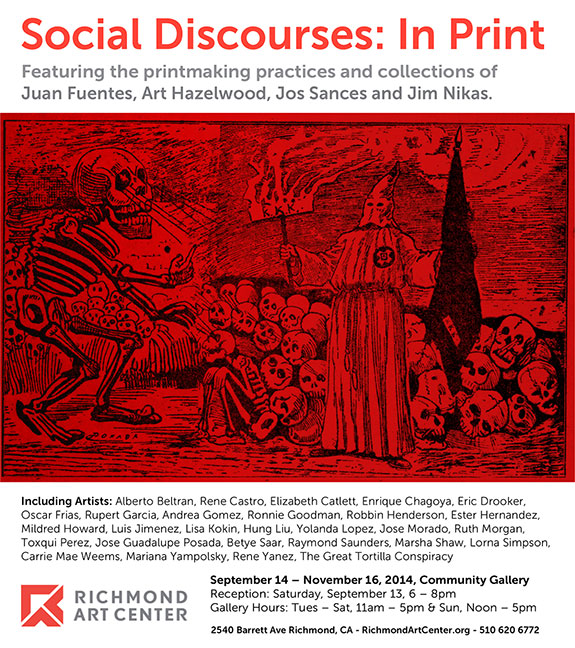 Social Discourses: In Print
The Prints and Collections of
Juan Fuentes, Art Hazelwood, Jos Sances and Jim Nikas,
Richmond Art Center
November 2014
The exhibit illustrates how printmaking engages people in social issues and the sharing of ideas. The exhibition will address links between the practices and how printmaking has been utilized to create accessible political messages, social change and political solidarity.
Curated by Anthony Torres






---
Hazelwood vs Yeh
Compound Gallery, March 2014
Upstart to the Woodcut Battle Arena Imin "MDF" Yeh, has laid down the challenge and called Art "Gargantua" Hazelwood out from his long hibernation to compete in a truly sensationalistic woodcut bout.
---
Art Hazelwood
Sept 11 - Nov 13, 2009
INFERNO Gallery
4401 San Leandro Street
Oakland, CA 94601

San Francisco Impresario, Artist, Instigator: Art Hazelwood brings us his recent works covering the issues in a Post-Bush world.
---
Galeria Zapatista at Mission Grafica presents:
Pillars of Society - Prints by Art Hazelwood
Mission Cultural Center 4th floor Galeria Zapatista at Mission Grafica
2868 Mission at 25th Street, San Francisco, CA 94110
May 4 – July 15, 2007
Reception: Thursday, May 17, 6:30 – 9:00

---
Hubris Corpulentus:
Art Hazelwood Prints
Univeristy of Rhode Island Library
Kingston, Rhode Island
April 3– April 28, 2006